SUPREME CH Pomquest Envy This
"Topaz" (AUST SUPREME CH Pomquest Envy This) was Australia's most successful Pomeranian bitch of her time in the show ring and one of only 3 ever Supreme Champion bitches in our breed. Although Topaz was a multi BEST IN SHOW and multi Runner Up BEST IN SHOW winner in All Breeds shows (which in itself is a HUGE achievement for a bitch), it was her success at breed level over her own sex in the biggest shows that cemented her place as one of the great Pomeranian show bitches. When only just turning 3 years of age Topaz already was a 3 times winner of the Bitch Challenge at Australia's only Breed Specialty Club and had been the Bitch Challenge winner at State Royal Shows 6 times! Topaz had her first litter for us when 3 years old and another at 4 years old before returning to the show ring as a 5 year old to strut her stuff once again.....
When Topaz came out once more she finished with a BANG in her final 3 shows before retirement in August 2016 by firstly winning Best of Breed at the Royal Queensland Show in a very tough breed lineup, then winning BEST IN SHOW at the Toy Dog Club of QLD and then finally BEST IN SHOW at the Pomeranian Club of NSW, all under International judges. In those 3 shows Topaz defeated every current multi BIS male Pom being shown in the country and she confirmed her class during this fairytale finish to her illustrious show career.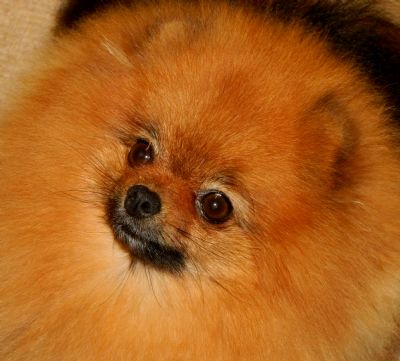 Showing Achievements
3 x R/U BEST IN SHOW
BEST IN SPECIALTY SHOW
2 x R/U BEST IN SPECIALTY SHOW
4 x Breed Specialty Bitch Challenge
State Royal Show Best of Breed
7 x State Royal Show Bitch Challenge
Qualifier for QLD Puppy of the Year
Twice a qualifier for QLD Dog of the Year
3 years a Top 5 for Breed in National DOL Pointscore
Breeding Achievements
Dam of 2 x BIS/RUBIS winners, from her only 2 puppies
Dam of 2 x Champions: